ANTI-INFLAMMATORY KITCHEN
90787741
|

Trademark
Interested in this case?
Request a Demo
Track this case, and find millions of cases like it, let us show you how.
Examining Attorney
CAROLYN ROSE DETMER
Class
Meat, fish, poultry and game; meat extracts; preserved, frozen, dried and cooked fruits and vegetables; meat and meat products; fish and fish products; poultry and poultry products; milk and dairy products; milkshakes; potato fries, chips and wedges; dairy based desserts; fruit juice extracts for cooking; vegetable juices for cooking; vegetable based dips and spreads; passata; tomato puree; olives, preserved; jellies, jams, compotes; eggs; milk, cheese, butter, yogurt and other milk products; oils and fats for food; prepared meals, convenience food and savory snacks; seafood and molluscs, not live; soups, stews and stocks, meat extracts; nuts and pulses; potato-based snack foods; salads including vegetable salads; hamburgers; 046; 046; 100; 105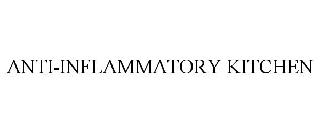 Status
New application assigned to an examining attorney for examination.
Last Updated: 1 month ago
| Filing Date | # | Docket Text |
| --- | --- | --- |