AVIR THROUGH BIO-ACTIVE PARTICLES OF COPPER MAY REDUCE THE RISK OF VIRAL AND BACTERIAL INFECTIONS. COPPER IS KNOWN TO HELP MAINTAIN A HEALTHY CIRCULATORY SYSTEM AND IS KNOWN TO ACT AS AN ANTIVIRAL, ANTIBACTERIAL, AND ANTI-INFLAMMATORY. AVIR MAY BE USEFUL FOR TREATING OR PREVENTING A WIDE VARIETY OF VIRAL OR BACTERIAL DISEASES. IT CONTAINS COPPER PARTICLES IN THE CASING OF LIPIDS (FATS), AND OTHER SUBSTANCES THAT HELP WITH ABSORPTION AND CELLULAR PENETRATION. THESE PARTICLES ARE INSOLUBLE, AND THEIR SIZE IS TINY -- 30-40 NANOMETERS (FOR COMPARISON, DIAMETER OF CORONAVIRUS PARTICLES ARE APPROXIMATELY 125 NANOMETERS).
90290536
|

Trademark
Interested in this case?
Request a Demo
Track this case, and find millions of cases like it, let us show you how.
Class
Dietary supplements for human beings and animals; Nutraceuticals for use as a dietary supplement for anti viral, anti inflammatory,antibacterial; 005; 006; 018; 044; 046; 051; 052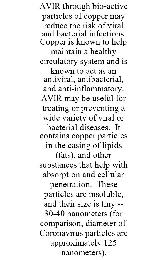 Status
Application is void because it did not meet minimum filing date requirements. Serial number was assigned in error.
Last Updated: 1 month ago
| Filing Date | # | Docket Text |
| --- | --- | --- |