MENDUNER
90273409
|

Trademark
Interested in this case?
Request a Demo
Track this case, and find millions of cases like it, let us show you how.
Registration No.
6,424,998
Class
Tweezers; Battery-powered animal nail grinders; Depilation appliances, electric and non-electric; Electric cattle prods; Electric ear hair trimmers; Fishing line cutters; Fishing tackle pliers; Hand-operated scraper to aid in skinning an animal; Hand-operated tool to aid in skinning an animal, namely, a tool having a blade and hook to assist in skinning an animal; Nail clippers, electric or non-electric; 023; 028; 044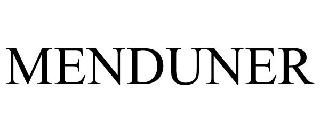 Status
Registered. The registration date is used to determine when post-registration maintenance documents are due.
Last Updated: 1 month, 4 weeks ago
| Filing Date | # | Docket Text |
| --- | --- | --- |