PERSONAL INJURY LAW ATTORNEY CARRION THE CARRION FIRM, PLLC
90601718
|

Trademark
Interested in this case?
Request a Demo
Track this case, and find millions of cases like it, let us show you how.
Examining Attorney
CAMERON L MCBRIDE
Class
Legal services; Legal services, namely, providing customized documentation, information, counseling, advice and consultation services in all areas of personal injury law; Attorney services, namely, representation of clients in personal injury matters; Providing customized legal information, counseling, and advice, and litigation services in the field of personal injury law; 100; 101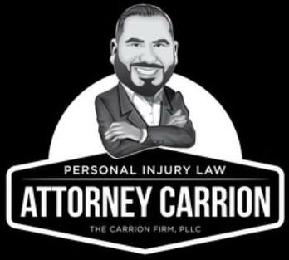 Status
Applicant's response to a non-final Office action has been entered. The application is being returned to the examining attorney for further review. To view all documents in this file, click on the Trademark Document Retrieval link at the top of this page.
Last Updated: 1 week, 5 days ago
| Filing Date | # | Docket Text |
| --- | --- | --- |