WALLOWA VALLEY CLEANING PRODUCTS
88634641
|

Trademark
Interested in this case?
Request a Demo
Track this case, and find millions of cases like it, let us show you how.
Class
All-purpose cleaners; Cleaning agents for cleaning surfaces; Detergent soap; Dish detergents; Dishwasher detergents; Dishwashing detergents; Laundry detergent; Laundry soap; Liquid soaps for laundry; Detergent soap; Stain removers; Biotechnological chemical and spray cleaners for industrial and household applications such as stain removal, odor elimination, and bioremediation of many types of organic and hydrocarbon-based materials; Cleaner for use on floors and windows; Carpet cleaners; Disinfectant toilet bowl cleaners; Automobile cleaners; 001; 004; 006; 050; 051; 052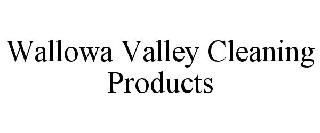 Status
New application will be assigned to an examining attorney approximately 3 months after filing date.
Last Updated: 3 years ago
Show Interactive Timeline
| Filing Date | # | Docket Text |
| --- | --- | --- |